Sandra Quinn is a top agent for Berkshire Hathaway HomeServices
in the Coachella Valley and ranked in the top 1% of all agents nationwide.
Featured Properties
Featured Property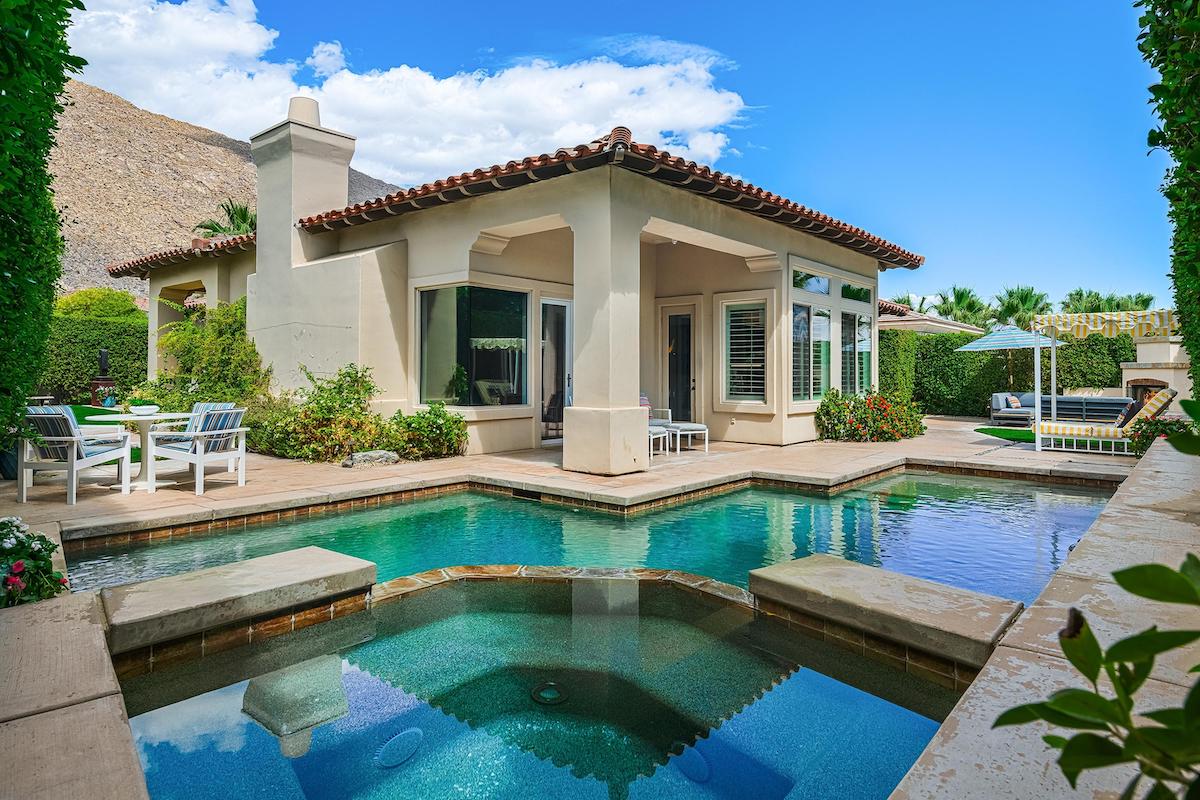 For Sale
House
646 Big Canyon Drive E
646 Big Canyon Dr E, Canyons at Belardo, Palm Springs,
Riverside/CA, 92264, United States
View Details
3 Bedrooms
3 Bathrooms
2261 sq ft
Our Services
Extras
Testimonials Sandra is an amazing realtor. I used her to sell a one-bedroom condo in Palm Springs, She works hard and gets you the most for your property. Very easy to work with.....and a great communicator. Highly, highly recommend.
Stephanie London Detail oriented, professional, pleasant, easy to work with, proactive, knowledgeable, solid team. No hiccups. Highly recommended.
Richard Strezo As a former Realtor of 25 years I can say Sandra did the job of selling our Palm Springs condo in a changing market in a few days! Sandra listens and acts, has resources and works for YOU! Her team are communicative, effective and personable. Experienced, knowledgeable and very pleasant. A good experience!
Brent Reid and Hubert Bonnet Sandra Quinn is an outstanding real estate agent! Sandra is very knowledgeable about the real estate market in general and we felt confident from the moment we met with her that she would do an excellent job. Sandra provided us with the utmost in service and we felt very comfortable with her recommendations and insight throughout the process. Sandra was very helpful and responsive to emails, texts, and calls; no matter how busy she was, she was always there to help us. Her personality is one in a million. It was such a pleasure working with Sandra. We would highly recommend Sandra Quinn and her team to work with because she is so good at what she does.Thank you so much again for all your help
Ray DiPerna Sandra and team are the very best I could have hoped for. Very professional with intense knowledge of the market, fantastic communication, and the best personalities to work with. 10/10 from me!
Michael Braun Sandra Quinn and her team were great to work with. I am a licensed real estate broker in the state of CA (Lic #00933579) and truly appreciate all she did for us. From our first meeting, and through the entire process of touring, escrow, financing, inspections, etc., she was always there to help. In the strong real estate market which we bought our home, she was there to schedule tours, answer our questions, and calm our nerves. Sandra's team was there as well. Working with such a wonderful person was very important when our emotions were involved trying to attain our dream home. Sandra and her team were all absolute professionals! We will certainly refer her to friends looking to buy in the desert.
Guy Excell Recently I sold a rental property I had. I chose to use Sandra Quinn as my listing agent. For me there was no other option as I worked with Sandra for several years and knew her wonderful work ethic in her business. What surprised me was while I knew how good she was from "inside the business", I was totally unaware of what that truly meant for her clients. She is beyond outstanding. She is supportive, communicative, on top of everything, knows the value of property in the area and is positive regardless of any roadblock (which there were some). Great "can do" attitude. Her team staged the property and treated it like their own. The property sold within three days for more than asking and closed in seven. I can't thank Sandra, Andrea and Greg enough for helping me in the sale of the home. Choose Sandra Quinn – you will not be sorry that you did.
Janie B We chose Sandra and her team in November '21 to sell our condominium in the Tennis District. From the very first day we met in person, Sandra instilled trust and confidence. She and her incredible team exhibited such professionalism throughout the process. They went above and beyond to help with so many details as we were in Northern CA for the duration of the sale. I always received a prompt and thorough response to my inquiries and communication was clear and proactive. Selling or buying a home is always stressful but of all the real estate transactions we've experienced, this was far and above the easiest ever, and that's because of Sandra and her team. We fondly refer to her as the "Real Estate Whisperer". There are not enough superlatives to recommend her. Just do it! - Mary Jo
Mary Jo Andrea Quinn with the Sandra Quinn Real Estate Group has been a very instrumental Realtor during the sale of my 2 properties in the Palm Springs area. My transactions were complicated as I was doing a 1031 reverse exchange. She understood the contractual needs and provided all needed communications with the escrow, lawyers, and other realtors involved. Qualities I appreciated as my realtor were reliability, communication, dedication. She was present and showed serious interest in setting both my properties up for a quick and very successful sale. During the sales she presented options and ideas, she quickly resolved problems and obstacles that arose without placing unneeded stress on me or my need to travel unnecessarily. She was in communication with me each step of the way, explaining and reassuring me during these very stressful and complex real estate transactions. Andrea is knowledgeable in how to present and sell your home for top dollars and is very savvy in the understanding of more complex real estate transactions. In addition she has a good sense for desert real estate. She is very professional and gets the job done quickly, efficiently, and timely. I recommend Andrea Quinn with your real estate needs.
Sophia Risorto Sandra was more than helpful in guiding me through my condo purchase. Her knowledge, attentiveness, insanely quick responsiveness and proactiveness made it possible for me to purchase the condo I absolutely wanted - and I got it in this crazy market! Thank you Sandra and team!
Danielle Friedenberg There is no way to adequately express the phenomenal job Sandra and her team did selling our house. We were working with her from out of state and could not believe how much she was willing to take care of on our behalf. From the very first day, she went to work far and above what we expected, from clear-out to staging to repair management to contractor scheduling and so much more, always making sure things were done quickly and correctly and keeping us informed along the way. We had multiple offers within two days of listing and the whole experience took only a little over 2 months from first meeting to closing. Sandra knows her business and she knows how to get things done, all the while making you feel like you are her ONLY client. We couldn't have been happier!
Kate Schafroth Working with Sandra and her team was an absolute delight. Sandra and her team were very hands-on and professional at all times. If you are looking to buy or sell a home, please contact Sandra Quinn.
Tom Schmandt Sandra Quinn is a gem and she has a fabulous team! They do everything from helping you stage your place for viewing to recommending services you might need to help you make the sale. Always responsive and cheerful. Sandra first helped me navigate a purchase in the Coachella Valley remotely and I was so impressed by her professionalism and how easy she made it for me. Now she has helped me sell my place and again the process was everything I could've asked for and more. I highly recommend Sandra Quinn and her team.
Charmian Sandra Quinn was the listing agent representing me in the recent sale of my condominium in the historic Tennis Club neighborhood of Palm Springs. She was a godsend and I have nothing but praise for her and her team. I would highly recommend her without reservation or hesitation. She walked me and my spouse through every facet of the sale. She was also able to market our condominium in a way that got a lot of buyers to see it in a short period of time with a quick resultant sale. She was always available via her personal cell phone to quickly answer any questions that I had. Her availability was priceless. I found her to be incredibly experienced, knowledgeable, and professional. Most importantly, I really like her as a person!
Samuel J. Sandra Quinn is a true professional. I am a broker myself in Palm Springs, and it is a pleasure every time I have a deal where Sandra is representing the other party. She is communicative and thorough throughout the entire real estate process, and her experience shines through on all her transactions. Her diligence from negotiation to disclosure to closing is appreciated and I look forward to more deals together in the future!
Scott T. (Bought a home in 2020 in Cathedral City, CA.) Sandra made the purchase of our new home almost painless! We bought in March during the early part of the COVID lockdown which required Sandra to assist us long distance while we were in NorCal after viewing the house only a short time. She is responsive, kind, thoughtful and has great referrals to tradespeople that were invaluable to making our home complete. She comes highly recommended.
Johnartz8 Sandra Quinn is the best realtor in the desert, without exception, especially in the Palm Springs area. Super knowledgeable, tenacious and hard working, she is also lovely and super personable. She sold our home and stuck with the transaction to see it through to the very end. We wouldn't think of using anyone else for our next Desert home. No one could possibly treat us better. Thank you Sandra.
Mark G. (Sold a Single Family home in 2020 in Historic Tennis Club, Palm Springs, CA). This was our third transaction with Sandra and her team. She and her team are a pleasure to work with. The most recent transaction was the sale of our house. No one has a better understanding of the neighborhood and market than Sandra.
J. Nanos Sandra and her team are take-charge knowledgeable and resourceful. From helping with staging advice to making our condo more attractive to providing resources to deal with those minor but irritating buyer inspection items, Sandra and team were there for us. We definitely will recommend the team, and have already.
From Zillow User8326728 Sandra managed the condo for 5 years prior to selling. During that time I was fortunate to benefit from her expertise, professionalism, attention to detail, problem solving, knowledge of good contractors tenant screening. Most of all I came to respect her honesty, common sense and directness. When it came to selling the condo, Sandra had a detailed plan to show the condo at its best and honest in evaluation and pricing. It all was effortless under her guidance. It sold in 3 days for asking. I'm forever indebted and wiser for knowing her. I can never thank her and her staff enough.
George I have known Sandra for over 10 years. She has represented me on 3 real estate transactions. Sandra is the best realtor I have ever worked with. She is professional, all goes effortlessly under her guidance. She cares, her follow up is superb and she always just gets the job done. Plus she is a great person, If you want to buy or sell real estate in the Coachella Valley or the Joshua Tree area I would call her right away.
David P. We listed our home in Palm Springs with Sandra last year we couldn't of been happier with the results she got us the highest price of any household in our neighborhood. She was very professional, knowledgeable, and her marketing materials were excellent. I would highly recommend using her to sell your home.
Larry K. I've sold a home (my pride and joy) with Sandra Quinn and I am using her to find a home. Two other realtors failed to get my big home (over $1 million) sold at my price. Sandra did. She put a ton of work into its presentation. She will give you terrific advice which one would be wise to take. Finding another home has been just as hard but she is dogged. It's corny to say, but she pours her heart and soul into her work. Absolutely the best.
Ikey B. Sandra Quinn- THANK YOU for all of your care, skill and judgment as you walked us through a very pleasant real estate transaction. You represented us some 3 years ago when we bought the property and now you have represented us on the sale. You explained everything, went above and beyond our expectations, and handled all of the details on both the purchase and sale of an out of state, Palm Springs property. We would use you again and again on ANY real estate transaction, and hope our paths cross again.
Amy Shoptaugh M.D., Bonnie LaRussa Phoenix, Arizona Andrea Quinn (Sandra's Sister/partner) helped me buy a home recently. I tried contacting over 10 agents and she was the only one who answered her phone and called back! So good! I was 2,000 miles away through this process and am so thankful for all the help and honesty. I've been in real estate my whole life and appreciate how good the Quinn's are.
Jordan P. Sandra, How do I like thee....let me count the ways....First: From the beginning you were so easy to talk to and answered my many crazy questions. Second: The photographers photos had shown my home so well, very important in the process of selling. Third: Every time I texted with another question you responded fast with either a text or phone call. Being a first time seller all was so new to me. My sale went so smoothly, you took care of everything, so impressive. I will highly recommend you over and over again.
Silver G. My escrow just closed on a great condo in Palm Springs that never would have happened without Sandra. As a Realtor in Los Angeles, I needed a pro in the Palm Springs market because we were looking for a very specific condo in a very specific neighborhood. The minute it came up to the day escrow closed, I was never disappointed. Having bought and sold several properties in my lifetime, Sandra makes it easy and provides 5 star service for every aspect of the deal. Now that we are closed, she is still helping me with vendors and helping coordinate workers for me. Also, I would be lax if I didn't also give a shout out to her entire team especially Andrea. Don't make a mistake if you are looking to buy or sell in Palm Springs- talk to Sandra FIRST!
Michael W. Sandra Quinn - THANK YOU for all of your care, skill and judgment as you walked us through a very pleasant real estate transaction. You represented us some 3 years ago when we bought the property and now you have represented us on the sale. You explained everything, went above and beyond our expectations, and handled all of the details on both the purchase and sale of an out of state, Palm Springs property. We would use you again and again on ANY real estate transaction, and hope our paths cross again.
Bonnie LaRussa Love Sandra Quinn and her team. Sandra worked with us in finding just the right property to meet our needs. She is energetic, patient and enthusiastic; takes the time to understand exactly what her clients want. At the same she can be creative in helping one look other options that you might not have considered. We got Sandra's name from a friends referral. You do business with people you like and trust. Sandra Quinn and her team are the best!
Christopher B. I first heard about Sandra Quinn from some co-workers who raved about her -- and they were not wrong!! I contacted her to help me find a house and, from my first interaction with her, she was energetic, personable, reliable, and obviously knew her stuff. She promptly answered all my phone calls, and did extra helpful things along the way that she certainly did not have to do. She was always straightforward with me and kept in touch during the whole process. Sandra knows the desert inside and out, and patiently showed me MANY properties. She finally found the perfect house that I fell in love with immediately. She advised that I offer above the asking price for the house, and I submitted the exact amount she suggested. It's a good thing I did because there were many offers and a lower offer would have lost out. Instead, I have a fabulous vintage home and could not be happier! No question ... Sandra is the best! Thank you, Sandra!!
Renee M.
"If there were six or more stars, I'd give them! Working with Sandra and Andrea was a phenomenal experience. We are talking about EXCEPTIONAL CUSTOMER SERVICE here!!! From pre-listing counseling on pricing, to staging, to negotiating multiple offers, to hand-holding when I got nervous (don't most sellers?), I was in expert hands. This is a team that will go dozens of extra miles for you and achieve great results. I should add, this was my third transaction with Sandra Quinn as my agent -- two as sellers, one as buyer -- and if the occasion arises, I will return for a fourth! Count me in as a fan. I highly recommend this great team!"
Jerome Elliott The best decision I ever made was working with Sandra Quinn and her team. I had put my house up for sale with another agent last year. The house sat on the market for months, and nothing, no sale! A friend, Howard Rubenstein suggested that I re-list with him. He was planning on teaming up with Sandra. Boy, what a different result! I actually had a team that included: Sandra Quinn, Howard Rubenstein, Andrea Quinn, and Janie Bolito. My "team" handled everything. From the wonderful listing with great photos, to realtor and buyer open houses. Appointments were scheduled for showings. Everyone was so accommodating and professional. But more than that, I felt like everyone genuinely cared. My home sold in the middle of the slow summer season in about 3 weeks. The escrow was easy. Sandra works with a great escrow company. Closing was a breeze! Selling a home is always stressful, but not so much when working with a true team of professionals. If I could give them all a 50 star review, I would. Thank you Sandra, Howard, Andrea, and Janie!!!
Jody F. It's not easy to find a real estate agent who treats your home and your investment as if it were her own. Sandra does this...she takes pride in the listing and represents it as if she were selling her own property. Always prompt, conscientious and courteous, we were very impressed with the ways in which she handled us, other agents and their clients. We appreciate her "straight talk" and no-nonsense way of communicating. She listens, acts and follows through on her commitments. As we neared the close of escrow of our home, Sandra personally handled some last minute improvements that the buyer's requested. Working with Sandra to sell our downtown Palm Springs home was a pleasure - we would recommend her services to any buyer or seller.
Kenneth H.
Over the last twenty years,I have purchased and sold multiple properties in Palm Springs. I have seen and endured about every kind of realtor you can imagine. On a scale of one to ten with ten being the best, with most barely climbing to three until I found Sandra Quinn. Sandra recently sold one of my homes in the Tennis Club area of Palm Springs. I can't say enough about how good she is.She is strategic, smart, innovative, extremely straight forward--more important she works--harder than anyone else I have see in the PS marketplace.Quinn's work ethic doesn't just stop with open houses. Sandra is constantly matching properties with the right buyer's desires and tastes. Her extensive use of social media, exquisite photography and print material bring life to every property she represents. Her constant availability day and night is unparalleled in the desert. There is no better realtor in Palm Springs area than Sandra Quinn. Period.
Mark Nelson
We have known Sandra for several years and have used her services for the selling of one condominium and the purchase of another. Throughout these transactions we were extremely impressed by Sandra and her unbelievable energy and focus on meeting our wishes. Her knowledge of the local real estate market combined with her ability to understand the needs of her clients, is remarkable. Sandra is truly a seasoned professional and we continually recommend her to friends and acquaintances who are in the market of either buying or selling. We cannot say enough about Sandra and, of course, her performance record speaks for itself!
Ron and Marilyn Fonock Sandra is THE BEST! She is knowledgeable, professional, and simply wonderful to work with! We just love her and highly recommend her!
Kathy S.
Have something to say about Sandra? Leave a review!